You may now set up automatic late fees from the Property section of your Landlord Dashboard.
How to Access Automatic Late Fees
Log into your LandlordStation account and go to the Property section of your Navigation Bar.
Choose the Property you wish to update.
Choose the Update Property option from the drop-down in the top, righthand corner.
Setting up Automatic Late Fees
If Automatic Late Fees are not already set up on your Property, you'll check this box to bring up that information: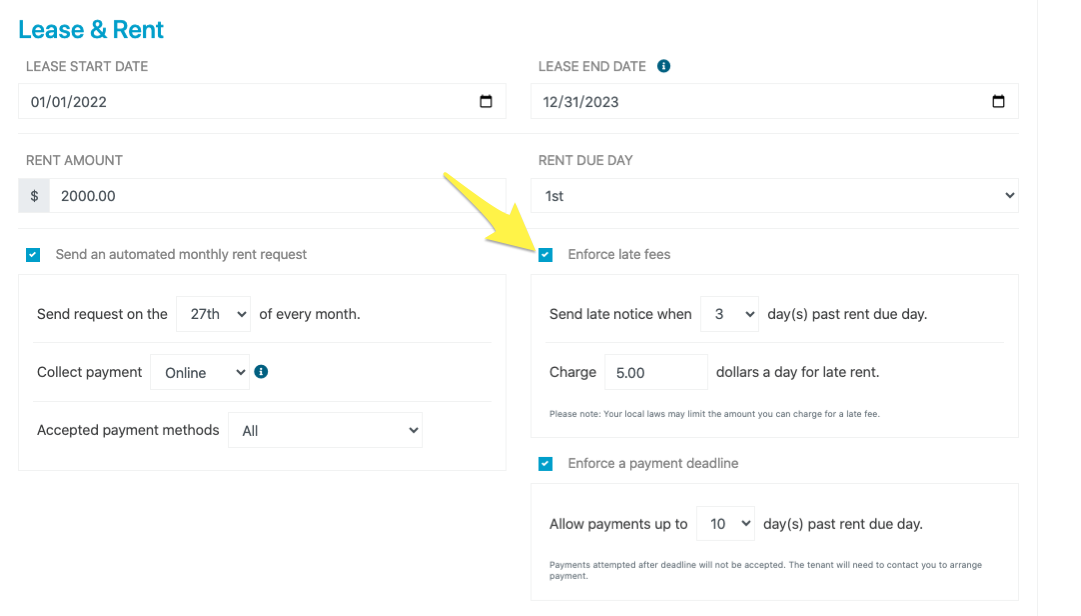 From there you may update the "Send Late Notice" option. This will send that Late Notice email on the day chosen. You may also choose the amount that you wish to charge per day.
For the above example, you'll see the following:
An email will be sent to the Tenant on the 27th of the month to let them know that Rent is Due on the 1st.
$2,000.00 is due on the 1st of the Month.
If rent is not received by the 4th of the Month, an email warning will be sent to let the Tenant know that Rent is due and that they will be charged a late fee of $5.00 starting the next day. The email will also note the Payment Deadline date.
$5.00 will be added to the overall amount until payment is made in full OR the Payment Deadline is reached.
If Rent is not paid by the 11th of the Month, the request will Expire and no payment will be accepted.
How is This Reflected in the Transaction History?
When you navigate to the Transaction History you will see the new payment that includes the amount received:
and the Lease Amount:

for quick and easy viewing.
You may navigate to that Details option to see the full amount paid for the Late Fee: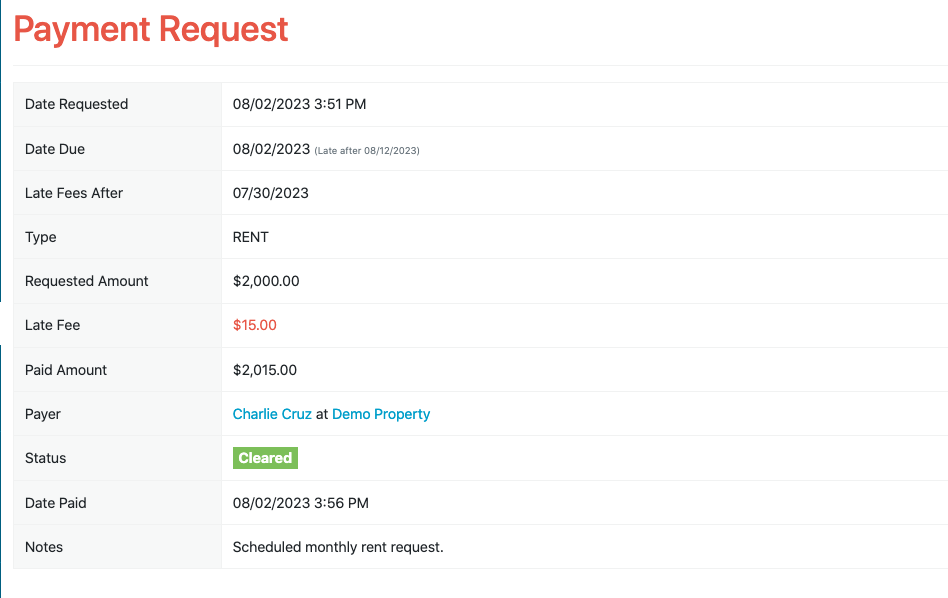 As always, if you have any questions, please let our team know at info@landlordstation.com and we'd be happy to walk you through those!